You might never think about a government agency or department until you need it, and when you need it during a health crisis that has caused a shutdown government, things can get complicated.
You never think about a marriage license until you need one. Needing a marriage license during the time of COVID19 has been another twist in how we're adjusting our lives. And interestingly enough, Court clerks are reporting a spike in applications for marriage licenses, despite the COVID-19 restrictions and closed courthouses.
More People Are Applying For Marriage Licenses
Despite The Pandemic
Does experiencing a health pandemic make you adjust priorities and reevaluate your life? When it comes to getting married that seems to be the case. During the first weeks of the pandemic, courthouses actually saw a spike in marriages, and nationally the trend has held steady.
In Alexandria, Va., they issued almost 30% more marriage licenses in February and March than the same time last year. And in Little Rock, AR, they saw a huge spike in marriage licenses the week of St. Patrick's Day, with more couples coming in than did the week of Valentine's Day. And despite being closed to the public, the licensing office continues to issue marriage licenses through a plexiglass window.
Disruption and isolation have a way of encouraging us to electively re-evaluate our lives – and that can be a positive affirmation in the middle of a disconcerting time.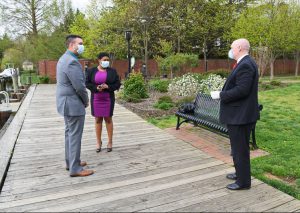 Researchers found that when we're exposed to an uncertainty that feels like it is threatening our future people are eager to affirm their relationships.
Dr. Susan David, a Harvard psychologist and host of a new Ted podcast series on coping emotionally with the pandemic, living through a crisis can be genuinely formative.
"People who've gone through trauma or struggle in the way that we are experiencing now, that struggle can simultaneously be distressing, and there is enormous growth and power that can come from it," she says.
In California, Gov. Gavin Newsom signed an executive order to allow state residents to obtain marriage licenses remotely due to the COVID-19 coronavirus pandemic. The state will also recognize marriages performed over a video call as long as both members of the couple are present and there is at least one witness to the live ceremony.
For local governments, keeping life moving is their priority even in the middle of a health crisis. Every state and city are finding ways to keep their citizen's life moving forward too. At AV Capture All, our priority is to make it as easy as possible for local governments to keep their business of the people moving forward. Our Live Streaming solutions and platform allow staff and citizens who cannot attend the city meeting's in-person to view online from home.