As we face the holidays and the last few months of 2020, a year most of us are happy to see go, travel is on everyone's mind.
We are facing a strange combination of Pandemic fatigue, fear of travel, and cities with travel quarantines and gathering restrictions in place. There are still many unknowns right now as many cities are experiencing a surge of COVID-19 cases.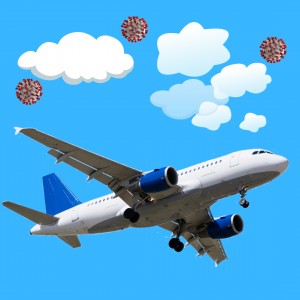 For the week starting November 9, 2020, the number of scheduled flights worldwide was down by 46.5% compared to the week of November 11, 2019. However, some airlines are seeing an increase of flights being book and the middle seat being released to book, limiting social distancing options.
But a majority of Americans are not planning to travel this holiday season. According to Destination Analysts, a market research firm, their recent Coronavirus Travel Sentiment Index Study, a weekly survey of 1,200 Americans, found that only 28 percent expected to travel for the holidays, including both Thanksgiving and Christmas. In the same survey, 53 percent said they had traveled for the holidays last year.
Adding to the uncertainty, many of the largest cities, including most of the Northeast, still have travel quarantines in place or are planning one with the recent spike in cases. New York City Mayor Bill De Blasio has even urged residents not to travel out of state for the holidays for fear of inviting a wave of coronavirus when they return home.  In San Francisco and the surrounding area, city and health officials recommend gathering outside which will help to significantly reduce the risk of COVID-19 transmission. They're advising no more than three households participate with a time limit of up to two hours per gathering.
Pandemic fatigue
Airlines have been one of the hardest-hit industries during the pandemic. Flight capacity has been steadily growing over the past month. Southwest Airlines, which has held middle seats open during the pandemic, recently announced it would make all seats available for flights beginning Dec. 1.
Still, scoring a seat without a neighbor sharing your armrest is getting harder, and travelers should prepare for more crowded planes.
In April, $25 billion in payroll grants plus a similar sum in low-interest loans went to the airline industry. Many Americans don't think the airlines should receive any more taxpayer money. In the years before the pandemic, partly thanks to weak antitrust enforcement, airlines made massive profits. Since 2015, the four major carriers (American, Delta, United, and Southwest) had the best years the industry has ever seen.
Despite that, and the carriers desire to preserve capital for a rainy day, the big carriers paid $42 billion into stock repurchases in the hope of improving their share prices. That was more than the total of their free cash flow — the cash they generated after paying interest, taxes, and maintenance.
This hasn't generated much sympathy for their hardships now and taxpayers aren't keen on another bailout that would reward the carriers for egregious overcompensation and share buybacks.
American Airlines, the biggest carrier, poured nearly $13 billion into stock repurchases despite having negative free cash flow. The companies also resorted to massive borrowing, increasing their debt on average by 56% from 2014 to 2019. American's debt soared from $18 billion to $33 billion.
Airfares for domestic flights in the second quarter dropped an average of 26% from the previous year, according to data from the Department of Transportation, released on a three-month delay and processed by airline analytics firm Cirium. That reduction came as travel demand fell as much as 97% over 2019 levels, before gradually improving to be down about 75%.
Average domestic fares at American Airlines were down 26%, while Delta cut fares 14%. United had one of the smallest reductions, down just 10% over 2019, while Southwest slashed fares by 25%.
Is the Air Better Up in the Air
Air quality inside the plane cabin has always been a concern. And now even more so. According to Airlines for America, the industry's primary lobbying group that represents major carriers like Delta, American, United, and Southwest, "Onboard, all A4A carriers have aircraft equipped with HEPA (high-efficiency particulate air) filtration systems and all members comply with or exceed CDC guidance."
This is reinforced by the International Air Transport Association, the industry's global trade organization. "The risk of catching an infection on an aircraft is typically lower than in a shopping center or office environment," says the spokesperson for IATA.
However, not all airplanes in U.S. fleets are HEPA-equipped, some of American Airlines' regional aircraft, for instance, do not have the filters, so check each airline before booking.
The Centers for Disease Control and Prevention (CDC) is urging people to consider modifying holiday plans to reduce the spread of COVID-19 to keep friends, families, and communities healthy and safe. For more information about holiday travel from the CDC, click here
Whatever your holiday plans are, being mindful of your surroundings, wear your mask, wash your hands often, pack a lot of hand sanitizers and maintain social distancing as much as possible.
Happy Holidays from all of us at AV Capture All